CANDIDATES FORUM: Hear from the candidates for City Commission and Mayor. Hear their thoughts on the critical issues impacting Coral Gables, and BE INFORMED before you head to the polls in April.
WHEN: THURSDAY, MARCH 11, 2021 AT 6 PM EST – 9 PM EST
Event by The Coral Gables Chamber Of Commerce and League of Women Voters of Miami-Dade County
Tickets: https://miami.zoom.us/webinar/register/WN_n1dAh36EQVaCGaMPbEXiIg
Info on this event is at Facebook https://www.facebook.com/events/721345422085157/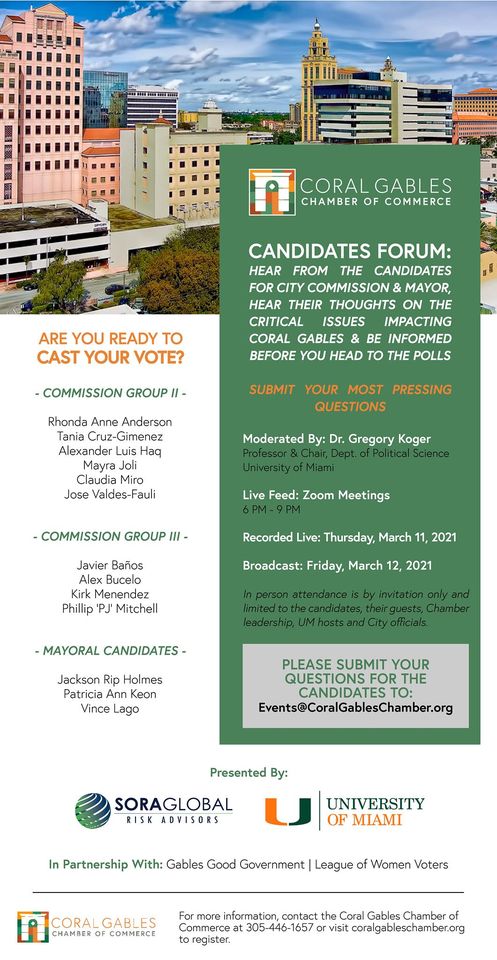 CANDIDATES FORUM:
HEAR FROM THE CANDIDATES FOR CITY COMMISSION & MAYOR, HEAR THEIR THOUGHTS ON THE CRITICAL ISSUES IMPACTING CORAL GABLES & BE INFORMED BEFORE YOU HEAD TO THE POLLSLive Feed: Zoom Meetings
6 PM – 9 PMRecorded Live: Thursday, March 11, 2021Broadcast: Friday, March 12, 2021In person attendance is by invitation only and limited to the candidates, their guests, Chamber leadership, UM hosts and City officials.
PLEASE SUBMIT YOUR QUESTIONS FOR THE CANDIDATES TO:
Events@CoralGablesChamber.orgModerated By: Dr. Gregory Koger
Professor & Chair, Dept. of Political Science | University of Miami-
COMMISSION GROUP II
Rhonda Anne Anderson
Tania Cruz-Gimenez
Alexander Luis Haq
Mayra Joli
Claudia Miro
Jose Valdes-Fauli
COMMISSION GROUP III
Javier Baños
Alex Bucelo
Kirk Menendez
Phillip 'PJ' Mitchell-
MAYORAL CANDIDATES –
Jackson Rip Holmes
Patricia Ann Keon
Vince Lago
Presented By: Sora Global Risk Advisors & University of MiamiIn Partnership With: Gables Good Government | League of Women Voters See Less